Physical Therapy
Why physical therapy?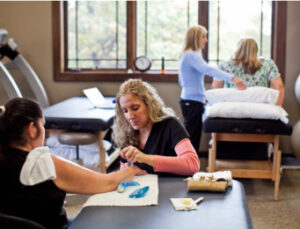 Physical therapists (PTs) can help improve or restore the mobility you need to move forward with your life. If you are an adult looking for a possible alternative to surgery or pain medication, consider PT! Therapists often times evaluate, diagnose and treat at your very first visit…our goal is to get you feeling better but also to teach you how to prevent your problem from happening again. High Pointe also offers pediatric physical therapy for kiddos from 0-18 in our pediatric clinic located on the Lower Level of our building.
Why High Pointe?
Simply said, we are the best (of course we're a bit biased so make sure you do your homework). Your care should not be taken lightly and you should not blindly set up an appointment with a provider you have not researched. We encourage patients to visit other clinics in the area and ASK QUESTIONS about your care. Then call us when you're ready to start!
What to expect at High Pointe…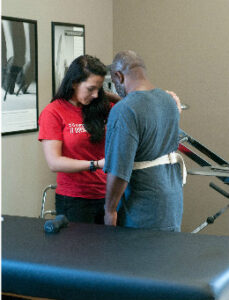 Personal care from a licensed team of therapists. You have the option to stay with the same therapist for every visit but we value specialization over our therapists being generalists and we'll try to match you with the therapist best suited to treat your particular issue.
A thorough examination in a relaxed atmosphere. We don't like to feel rushed and we don't want our patients to feel rushed. We allot 60 minutes for your first visit so we can perform a comprehensive evaluation and give you the time you need.
Hands-on techniques focused on restoring motion and relieving pain. We feel our hands are our best tool…so we use them!
Individual attention at every appointment. We do not double or triple book our appointments and treatment is always delivered by licensed, qualified team members. YOU are our main focus when you are here.
Customized home exercise programs to address your specific needs. If you want a cookie-cutter approach, navigate away from our page now.
Ongoing assessment to make sure we are progressing towards the goals you want to accomplish while under our care.
Communication not only with you but also with your care provider. This is not unique to us, but we think we do a good job.
Familiar faces and a family atmosphere. We are not a chain – what we do and how we do it cannot be replicated easily, much less in dozens of locations. We strive for happy patients and a happy team at all times. We can't please everyone, but we come pretty close!
High Pointe offers the following services:
Spine therapy (neck & back)
Pre- & postoperative rehab
Sports therapy
Industrial rehab
Neurological rehab
In adults, we can help with:
Neck & back pain
Sports injuries
Osteoporosis
Sprains, strains & tendonitis
Arthritic conditions
Total joint replacements
Carpal tunnel syndrome
Tennis elbow
Foot pain & plantar fasciitis
Rehabilitation following amputation
Vertigo, dizziness, and balance impairments
Myofascial pain
Joint pain
Fibromyalgia
Deconditioning
CVA / stroke
Neuropathy
Headaches
Specialized services we provide at our Clarksville clinic:
ASTYM® – Jessie Carter, PT, DPT; Kellie Boyd, PT; Missy Bell, PT, DPT
Trigger point dry needling (TDN)- Jennifer Scott, PT, DPT, COMT, CSCS; Jessie Carter, PT, DPT
Certified Orthopedic Manual Therapist (through Maitland) – Jennifer Scott, PT, DPT, COMT, CSCS
Vestibular rehabilitation – Missy Bell, PT, DPT; Jennifer Scott, PT, DPT, COMT, CSCS
Pediatric Certified Specialist (through ABPTS) – Ellen Argo, PT, PCS, C/NDT
Neuro-Developmental Treatment Certification – Ellen Argo, PT, PCS, C/NDT
Cerebral Palsy and Other Neuromotor Disorders – Ellen Argo, PT, PCS, C/NDT
Pelvic floor physical therapy – Jessie Carter, PT, DPT; Meghan Geary, PTA
Massage therapy – Rebekah DeAvila-Hudson, PTA, LMT